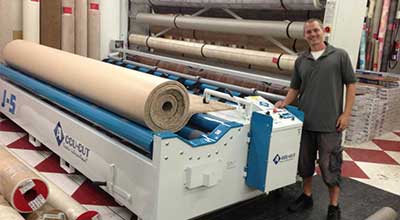 Avalanche Floor Coverings - Winnipeg MB Canada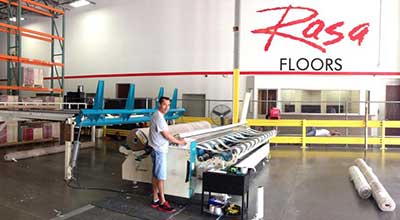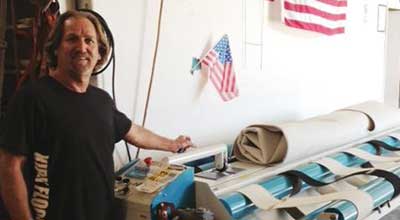 Rasa Floors - Carrollton, Texas
Kirk Flooring - El Segundo, California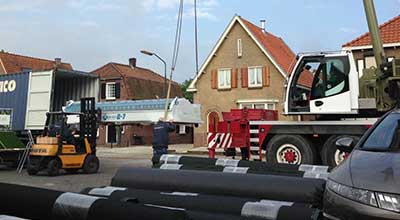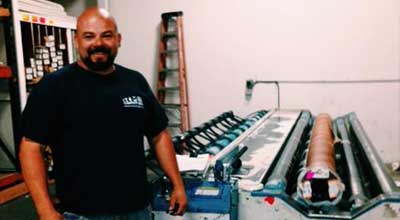 Van De Lockant Kunstgras - Netherlands
HM Carpet - Compton, California
Accu-Cut has five different carpet cutting machine models:
the J-2, J-5, Q-7, Q-9 and the X-33.
Each of the models allows one person to measure, roll, re-roll, cut, wrap, back-roll, and dump carpet and vinyl orders with speed, accuracy and cleanliness. Accu-Cut has been in business since 1990 and supplies businesses such as small "mom and pop" retailers, large distributors, and even the 2 largest carpet manufacturers in the World. We are family owned and operated business who prides itself on providing high quality machinery backed up by excellent service. We are based in Tavares Florida which is about 45 miles Northwest of Orlando. We also have an office in North Las Vegas NV. We invite you to come visit either of our offices. Accu-Cut ships our machines all around the country and has even shipped machines as far as Ukraine and South Africa.
In the USA alone Accu-Cut has thousands of floor covering dealers that own our machines and we would be happy to provide you with references in your area. We have heard time and again from customers that "We don't know how we were doing business without a machine before" and "It's one of the best decisions I have made for my business". We partner with a service company that is in the building next door Crescent Services that provides service to our customers all around the USA with 4 trained technicians. Many of our customers love the fact that through Crescent Services we offer a preventative maintenance plan. We have a lot of customers that will have Crescent Services come to their store about every 6 months to do a preventative maintenance tune up on the machine. A preventative maintenance visit like this can prevent costly repairs and can help to maintain the value of your machine. The machines have changed over the last 20 plus years and we allow customers to trade in their machines to upgrade to a newer model. Most of the companies that purchase machines from us will put the machines on a finance plan that they can pay off at any time for principle only. Most times we don't need a personal guarantee on the financing. All of our machines are portable and on wheels.
The Q-9 and X-33 model units are typically not a machine that are moved around. Those 2 models are the two high volume model machines. We even have a customer using a Q-9 model that runs it 2 shifts per day 5 days a week. The Q-7, Q-9, and X-33 model machines feature the self-sharpening circular cutter system that can last thousands of cuts without changing the blade depending on the backing of the carpet. The blades are less than $30. We have many customers that purchased machines in the early 90's that still have the machines today and still use them on a regular basis. We have heard numerous times "We don't need a new machine, you make them so reliable it's still working great". This is a great testament to the quality and durability of our machines. New machines come with a 1 year parts and labor warranty. We truly believe this is one of the best investments a flooring dealer can make for their business. We like to call it "Your employee of the year". The machine doesn't call in sick, doesn't complain, show up late, and cost you overtime and worker's comp. In fact the machine can prevent an employee from getting injured cutting carpet on the floor. We had a customer tell us that is why they purchased the machine, because they had an employee that got injured. When you consider that most of our machines are around the same or less than you would pay an employee for one year but that a machine can last you a lifetime they sure are a great investment. Machinery such as this is a tax deduction under section 179 of the IRS tax code.
The J-2 is our entry level model that is good for a small "mom and pop" retailer that is making about 5-7 cuts per day on average. The J-2 model will hold a roll that is about 32" in diameter if you were to measure the roll from the top to bottom from the side of the roll. It features a low speed and a high speed unlike the other 4 models that each have 10 speed settings. This is our most basic entry level machine but for a small business it can still be a very valuable asset. http://www.carpetcuttingmachine.com/machines/J-2.htm
The J-5 is a heavy duty model machine and can handle very heavy rolls of carpet as you will see if you take a look at the J-5 video on the J-5 page at http://www.carpetcuttingmachine.com/machines/J-5.htm
The Q-7 is our most popular model machine. The Q-7 features a self sharpening cutter system and a roll improver to help you keep the rolls rolling up straight. http://www.carpetcuttingmachine.com/machines/Q-7.htm
The Q-9 is a very fast, very heavy duty machine. For companies needing a machine for many cuts a day or for rolls that are 300 feet the Q-9 can be a great choice. The Q-9 is very automated with turn switch roll up and turn switch dumping off of both sides of the machine. The Q-9 has motion detectors eyes on the table to keep the rolls rolling up straight automatically. http://www.carpetcuttingmachine.com/machines/Q-9.htm
The X-33 is our top of the line machine and the largest carpet manufacturer uses multiple of this machine in their distribution centers. The machine is very automated, very fast, and keep the rolls rolling up straight like the Q-9 does. With the X-33 we can extend the inspection table for an additional cost if that is something that you require. http://www.carpetcuttingmachine.com/machines/X-33.htm
Please give us a call at 1-800-222-8288 if you would like to speak to us more in depth or if you would like pricing on any of the model Accu-Cuts. We hope to have you join the thousands of satisfied Accu-Cut customers.